Nef Torres
We love to hear of
how our customers
have
used their Survival Straps gear
! Here's an awesome
story
from our friend Nef and how his Survival Straps® Survival Bracelet™ saved the day! "Hey guys, My daughter gave me a
Survival Strap bracelet
as a gift (for the guy who she thinks has everything). I've worn it everyday since she gave it to me. Last weekend I went on an overnight dualsport adventure motorcycle trip with one of my buddies. We ventured as far as possible from civilization as we could get. We ride approximately 180 miles riding dirt roads that turned to two track paths which later turned into game trails. We were far enough off the beaten path that we were sure no other vehicles had been in that area for a very long time (if ever). We found a dry creek bed, we decided to ride into the creek bed even farther away from civilization. We rode about 1/2 – 3/4 of a mile down the "dry" creek bed, negotiated many obstacles, and finally came to an area that required us to choose one of two paths across an obstacle. We clearly chose the wrong one, when my buddy immediately sunk his KLR 650 motorcycle up to the skid plate through what looked like dry dirt into a clay pit. His instant effort to power out of the bog sunk his rear tire so far into the clad/mud that you couldn't see the rear tire. The from tire sunk into the clay up to the axle.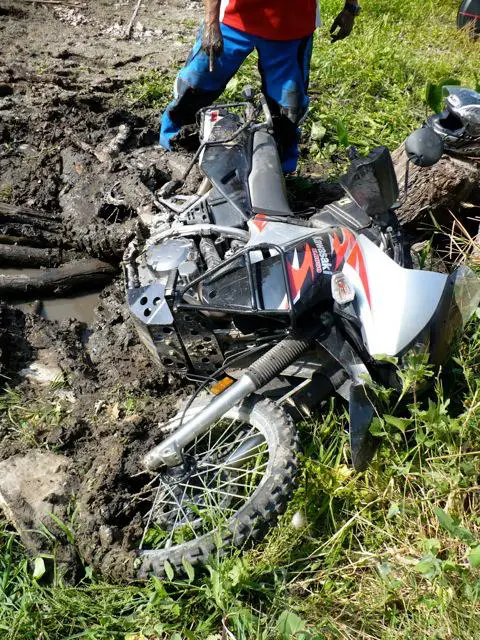 We were screwed, we knew no support vehicle would be able to reach us. We tried to push, pull, wobble the bike, only sinking it and ourselves deeper into the mud. The attached photos are taken in an (assumed) dry creek bed 1/2 – 3/4 miles down the creek bed and not at all accessible by truck.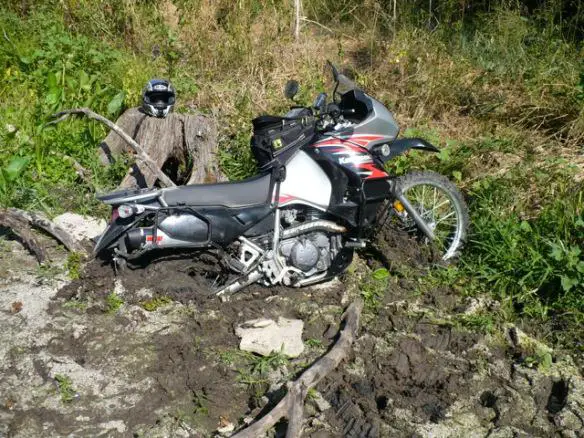 Eventually the bike became muddy enough that it was very hard to hold onto while pulling it. I used my survival strap bracelet to tie onto a hand hold on the bike and onto a piece of wood to create a handle to pull with. It worked out. After hours of digging, pulling and sliding the bike over an improvised deck we created out of branches, flat creek stones, and other assorted natural materials. It was late afternoon, with only two hours daylight left, with forecast severe thunder storms predicted in our area which could flash flood the creek bed at any time. He just wanted his bike out of the creek bed. Without his bike we would have trouble getting both of us and our gear out of this predicament. I made several attempts to get him to take pictures, but he was too aggravated to entertain the idea until we were nearly done. I don't think we have any usable photos of the survival strap in use. We were more concerned about the vehicle recovery and getting the hell out of that creek bed before the rains started. My buddy did take some photos after we got most of the work done. These pictures DO NOT begin to document how badly stuck this bike was earlier. I also used the paracord to hastily lash equipment back onto my bike for the ride out of the area, and later that night used it again to replace a the single guy line on my Bivy Tent. The paracord now resides with my bivy tent as a permanent guy line!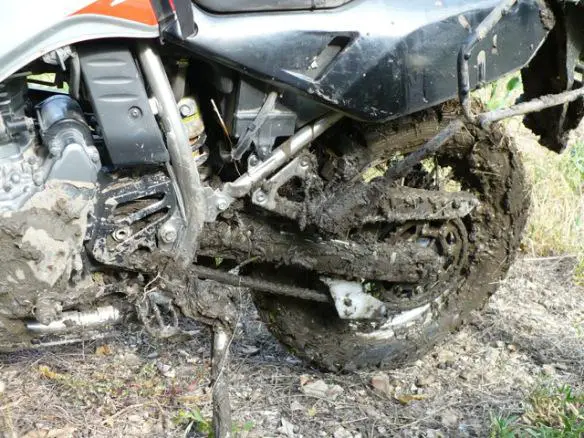 Thanks for making a great product! Nef Torres BTW: My daughter was really happy she gave me the bracelet (and so am I!) I plan on ordering myself a wide fishtail metal buckle multicam bracelet next week!"