If you are a hunter or wildlife explorer, you would know the importance of having quality equipment. When you are prepared and go into the forest with the right hunting equipment, clothing, and food, you are sure to have a wonderful expedition.
Even though you followed your boy scout rules to the letter and you try to make sure you are prepared for every scenario, there are still some accessories you can add to your equipment to help you on the field.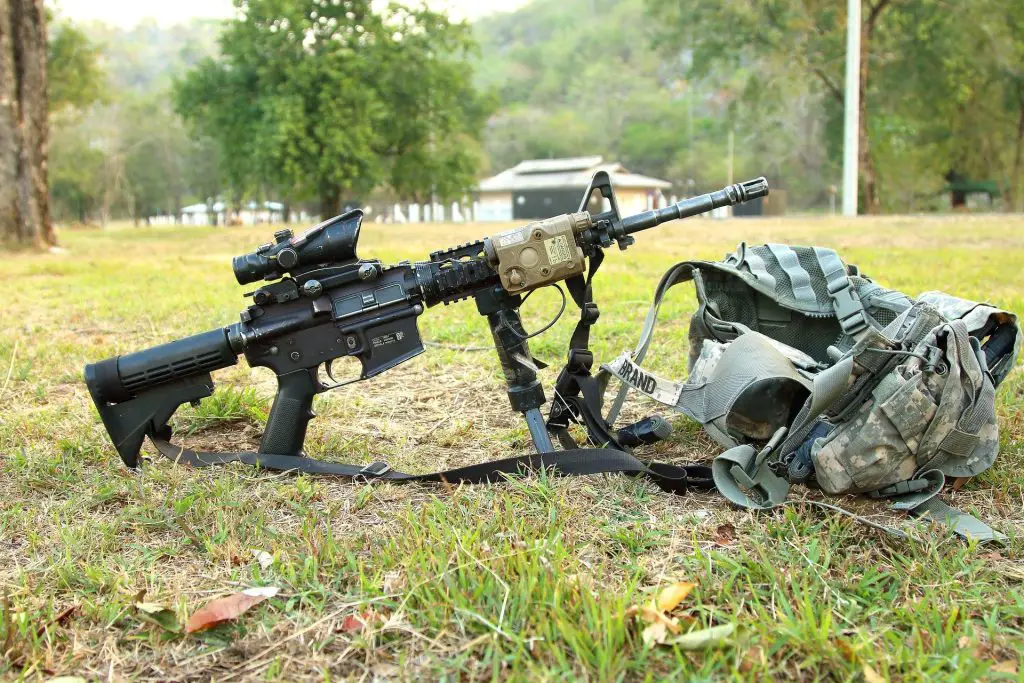 The rifle is the most important hunter's equipment, and it always comes with an effective aiming system. A rifle's aiming system is mostly dependent on the primary optic, which helps you shoot targets from far distances. However, the primary optic can get damaged or stop functioning for one reason or the other.
When this happens, you will not be able to use your rifle for long-distance targets. This is where this wonderful product manufactured by Magpul becomes relevant. The Magpul MBUS Pro Offset Sights is uniquely designed to give you a fully-featured iron sighting solution if you can no longer use your primary optic.
In this review, we will show you the key features of this product and the benefits you will enjoy when you use it. Enjoy!
Interested in finding out more about survival? CLICK HERE.
Key Features
Made from Steel
Unlike the plastic sights, these Pro Offset sights are completely made from steel. They are better than the bulky plastic sights, and they are sleekier.
Standard AR Height Over Bore – 45-Degree Offset
These sights are designed with a 45-degree offset. When they are deployed, all you have to do is rotate your rifle 45-degree towards the right-hand side, and you can have your target in sight.
Finished with Melonite QPQ
If you are worried that wear and corrosion will affect your metal sights, you can put your mind to rest with this product. These sights are finished with Melonite, which means they have a strong resistance to wear and corrosion.
Comes With Positive Detents in Both up and Down Positions
These sights also have a positive detent lockup when deployed. This lockup applies to the up position, down position, and elevation knob.
Designed for Optimum Visibility and Increased Precision
When you use these sights, you can be sure of increased precision and optimum visibility.
Designed for Tool-Less Elevation Adjustment
One of the best features of this product is the tool-less elevation adjustment. You can easily adjust the front post and zero in on your target. You don't need any tools for this fast process.
It Comes With a Low-Profile Footprint
The low-profile footprint means that the sights are very small and compatible. They will not interfere with your rifle setup.
Specifications
Brand name: Magpul
Weight: 1.8 ounces
Height above rail: 0.18 inches
Length – 1.9 inches
Pros
Portable Sights
When these sights are not in use, you would hardly notice their presence on your rifle. However, when you need to use them, they will come in handy. Their small structure doesn't prevent them from showing you the full picture of your target.
These Sights Are Perfectly Structured
These sights have a wonderful finish, it is sturdy and will not shake once deployed, the screws are tight and strong, the rear aperture can be easily switched, and so many other things; it is safe to say this product is perfectly structured.
Durable Product
This product is made of steel, and it is finished with Melonite. Except if you intentionally damage these sights, they will last for a very long time. They are also resistant to corrosion, and this means they will maintain their sleek look.
These Sights Can Easily Be Adjusted
These sights are designed to make it easy for the user to customize them. Adjustments for the elevation and windage are straightforward and can be accessed easily.
Cons
This product is quite expensive
If you are looking for a cheap product, then you should get plastic sights. This product is quite expensive because it is designed with high-quality materials.
Check out
Conclusion
One of the best feelings that a human being can have is aiming for a target and hitting that target precisely. If you are a shooter, you can experience this feeling in real-time.
One of the many pieces of equipment that can help you to shoot with increased precision is this Magpul MBUS Pro Offset Sights we just reviewed. If the product fits your arsenal, you should go ahead and buy it.
Check out our website for more content like this.